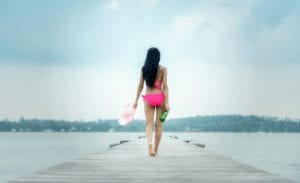 Whilst there is a plethora of procedures for beauty treatment nowadays, not all of them are without risk. Even the simplest procedures carry a certain amount of risk, and this includes a popular procedure such as waxing. Waxing treatments may be beneficial in many ways, helping us get rid of unwanted hair on our bodies, but are they really as safe as they seem? You may be surprised – cases of infections and skin reactions related to waxing treatments have risen in recent years. Here, then, is what you need to know about the risks related to waxing procedures – and how to lessen them.
The risks
Medical professionals confirm that there are a number of risks related to waxing procedures, but some of the most common include skin irritation, dermatitis, folliculitis, and infections. Folliculitis is the inflammation of hair follicles, and this tends to occur most commonly in the warm, humid areas of the body, such as in between the thighs and the buttocks. There are some injuries that are less common but can still occur as well, such as burns which can also result in permanent scarring.
How to reduce your risk
If you undergo waxing on a regular basis, there are ways you can reduce your risk of waxing-related injuries. After you go through a waxing treatment, you should avoid hot showers or hot baths. Make sure the temperature of the water is warm and not hot, as the heat can irritate your skin further. Also, try to avoid self-tanning. You should stay away from swimming pools, steam rooms, and Jacuzzis because after waxing, your skin's pores remain open, and this can make the skin more prone to the development of infections and the growth of bacteria. If you have irritated, infected, or broken skin, you should avoid waxing altogether.
What to expect from a technician prior to a waxing procedure
Beauty and waxing treatment salons have a duty of care to you as a customer when they are performing such a procedure – this is not only for your own benefit but for their benefit as well so they can avoid beauty injury claims. The technicians should make sure to sanitise or wash their hands prior to treatment. Technicians should also wear latex gloves (disposable, of course), and the linen or paper used on the table should also be discarded after each treatment.
The technician performing the procedure should also avoid 'double-dipping', where the stick is dipped more than once into the wax even after it has already touched the skin of the client. Check to see if the salon or centre has pump-style bottles for creams and lotions to avoid cross-contamination, and the tweezers used by technicians should also be disinfected and sanitised after every use.